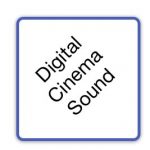 Sound Formats
While the concept of surround sound has been around since the 1940's, the horseshoe-shaped surround speaker array commonly found in cinemas today was established in the 1970's, with the introduction of the "Stereo Optical" format by Dolby Laboratories. The 5.1 and 7.1 sound formats, in common use today, simply divide the surround speaker array into multiple channels. The progression of surround sound formats is illustrated below.
Figure S1. Cinema speaker formats: Stereo Optical, 5.1 Sound, and 7.1 Sound
Soundfield Groups and Immersive Sound
The concept of Soundfield Groups embodies the idea that a multiplicity of sound channels will continue to evolve.  What has actually evolved, however, is a more generalized concept of cinema sound, where a common set of sound channels, forming a sound bed, is combined with more localized sounds rendered across speakers located above and about the audience.  This is the basis of Immersive Sound formats.  A key characteristic of Immersive Sound is the 3-dimensional positioning of sound objects through the application of metadata, a rendering engine, and an appropriate loudspeaker system.  To further break from the channel concept, sound objects of limited duration can simply be carried as a chunk of audio.  In this manner, a rich soundfield may be created without the need for a large number of sound channels in distribution.  In practice, 5.1 / 7.1 speaker arrays are combined with additional speakers located above and about the audience, in combination receiving audio from the rendering engine.
Commercially available cinema immersive sound formats are available from Dolby Laboratories (Dolby Atmos®), DTS (DTS:X®), and Barco/Auro Technologies (Auro-3D®). Each of these formats consist of a unique distribution format and proprietary rendering engine. As of this writing, a SMPTE standards committee is working towards a common distribution format for immersive sound. The common distribution format is intended to drive competitive and proprietary immersive sound rendering engines.